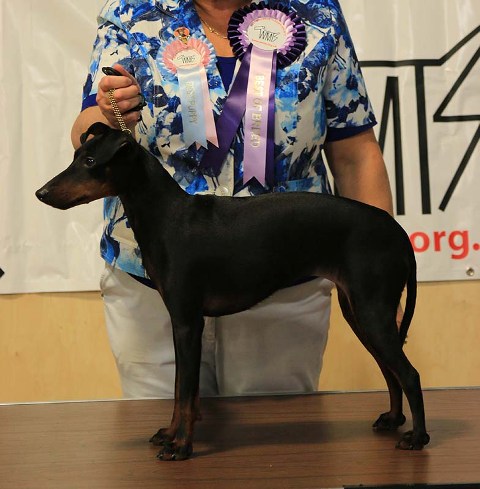 BEST OF BREED
Talanors Typically Special
OWNED BY
Mr C & Mrs G Knight
BEST PUPPY
Talanors Typically Special
OWNED BY
Mr C & Mrs G Knight
Manchester Terriers
P (3, 2 abs) 1 Knight's Talanors Typically Special, lovely puppy, well made, correct head, good outline & tuck up, loved her confidence & attitude on the move. BOB & BP.
J (1) 1 Knight's Talanors Diamond Treat, good head with keen expression, was tending to lose her topline today, moved well away from you.
PG (2, 1abs) 1 Adams & Harris's Eaglespur Prince Charming, shown in superb condition, good head & ears, a little wide in front, moved out well. RBOB.